Editor's Ramblings
Who would be the winner of the 2006 world cup?
by Naeem Ismat (Guest Contributor) | June, 2006
---
Who's making all the noise in the stadium? Doesn't sound like a samba.....
Samba is a dance and type of music from Brazil originating from African slaves. The dance is very difficult as performed by Brazilians in comparison to formal "ballroom" dancing which is highly stylized. Men and women dance samba differently and together yet without touching.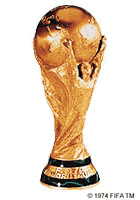 They say the sign of a GREAT team is when they play badly and still win, if that's the case, then Brazil, England and Italy are all GREAT teams. None of them have been convincing so far, let's hope they are just warming up!
Current holders of the FIFA World Cupā"¢ Trophy - Brazil defeated European challengers Croatia 1-0 in an enthralling Group F encounter in Berlin on Tuesday, 13 June 2006. Just a minute before the interval, AC Milan midfielder Kaka curled a left-footed shot past Stipe Pletikosa and into the top left-hand corner of the net. I can firmly see Croatia getting second in that group on that form.
The win gave Brazil their eighth consecutive success in FIFA World Cupā"¢ matches, a new record, and how fitting that it was delivered by the wearer of the SeleĆ§Ć£o's No.8 shirt. My faviroute Ronaldo was substituted after 69 minutes following a lacklustre and lethargic performance. Is Ronaldo's time over now?
Amazing Numerology To Predict The FIFA World Cup Winner
Brazil won the world cup in 1994. Before that, they had won this title for the last time in 1970.
If you add up: 1970 + 1994 = 3964
Argentina won the world cup for the last time in 1986. Before that only in 1978.
And 1978 + 1986 = 3964
Germany, though, won the world cup in 1990. Before that, Germany won in 1974.
Look: 1990 + 1974 = 3964
This could lead us to guess the winner of the World Cup in 2002, since it should be the winner of the 1962 World Cup (In fact 3964 - 2002 = 1962).
And Brazil won the world cup in 1962! (And, in fact, Brazil won the 2002 WC)
This numerology seems to work...
And now, who would be the winner of the 2006 world cup?
Let's see, 3964 - 2006 = 1958
And who won in 1958?....
Oh, Brazil did!!!

Let's see what happen on 9th July 2006.
Popular Editor's Ramplings